Future of Comfort
'Future of Comfort' roundtable sets out vision for renewable heating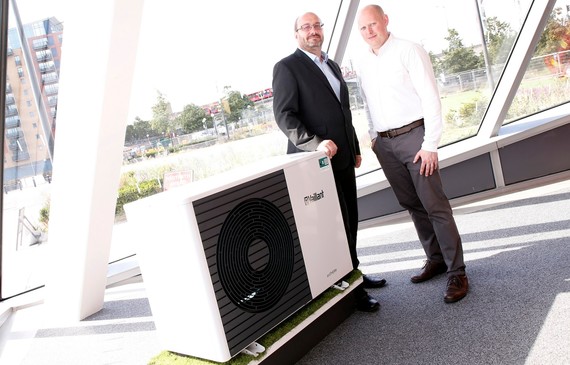 Leading UK heating technology manufacturer, Vaillant, has hailed the success of its recent roundtable discussion on the future of heating provision in the UK. Bringing together installers, media and influential figures from leading trade associations, the event was a wide-ranging debate on everything from renewable energy and low carbon technology to training and skills.
Hosted by Vaillant, the event took place at The Crystal in London, one of the world's most sustainable buildings. Attendees included installers from J Tomlinson and BSW Heating, as well as representatives from the Sustainable Energy Association (SEA), Heat Pump Association (HPA), Ground Source Heat Pump Association (GSHPA) Heating and Hot Water Council (HHIC), National Energy Action (NEA) and BEAMA, among others.
The discussion considered how stakeholders are responding to the challenges of energy and carbon reduction in the context of rising numbers of households, which are projected to reach 26.9 million in England by 2041. Attendees debated whether a programme of insulating homes should be seen as a national infrastructure priority and whether regulation and more financial incentives are needed to push demand for low carbon technology.
A lack of training in low carbon heating technologies was highlighted, with concern over whether there are enough professionals with the right skills and experience to build and install the systems and infrastructure to help decarbonise our homes. The conversation then turned to the need for structured training programme for new entrants and the upskilling of existing workers.
Mark Wilkins, Head of Training and External Affairs, at Vaillant, commented: "By bringing together leading industry figures, we wanted to come up with ideas on what needs to happen for substantive progress to be made towards our low carbon future. It is clear that any long-term energy strategy needs a mix of different technologies, including heat pumps and boilers powered by hydrogen and other green gases.
"With a wide variety of sectors within the UK market, each will potentially require a different approach – with clear policy, regulation and funding essential. Overall, there is a lot that can be done to achieve our clean heating goals. But the event also highlighted an overarching sense of urgency that action needs to be taken now, not years down the line."
Vaillant will be publishing its full findings from the roundtable in the forthcoming weeks. In addition, the company will be discussing these challenges with its own installer customers at events such as its Installer Congress.
---